A New Chapter: Emily Joins Words Worth Noting
The Lord was growing Words Worth Noting. I was seeking His face. He was calling me to steps of faith bigger and more costly than I'd experienced before.

This is when I met Emily.
The Beginning of a Friendship
She was recommended to me on the basis of her skills and her capacity to work well with others. She had her own Etsy shop called Justified Paperie, and I was humbled that she'd take the time to lift up another in her own field of competition.
Emily: I'll never forget that first meeting with Lauren to discuss her logo. Having just opened my Etsy shop 2 months prior, I was trying to figure out life as a work-at-home mom, lugging my toddler to a business lunch, feeling like a frazzled mess. Lauren's kindness and gentle heart relieved my insecurities and made me eager to get to work.
Little did I know, the Lord was unfolding His plan He wrote before the foundation of the world.

Our friendship began naturally. She drew out my heart as she designed my logo. If you don't know me, I'm really prayerfully particular about costly things and steps of faith. Though I don't always know what it looks like up front, steps of faith grow more clear as I lean in dependence on the Lord and He graciously gives the discernment as I keep on trusting Him.
Emily: One of my favorite things as a designer is to listen, perceive, and create something that captures the heart of my client. The words that defined Lauren and her work at Words Worth Noting were very evident: Beauty. Gentle. Classic. Pure. Full of grace, passion, and Truth.
She received me in all my particulars that couldn't be articulated. She created and put my heart on a page.
This was a moment that set the course for our friendship. I marveled over her skills and abilities to draw out the vision deep within my heart, and I marveled over how wonderful and humble she was.
We developed a friendship over a deep love for Jesus, His Word, and a calling we both felt from Him in the creative sphere that left us with things in common others didn't understand. He was knitting our hearts together for His glory and purposes, and we were just reveling in a growing friendship centered on Jesus.

As time went on, we began to seek wisdom from each other on the things we were pursuing in our own small business/ministries. We would philosophize about why we were pursuing certain things. We would share our visions, our convictions, our desires to minister to others through our respective work. We would echo the ways the Lord was confirming and sanctifying us in this walk of faith. And we'd encourage each other to press on.
Listening to the Lord
Little by little, as we kept hearing each other, we also heard from the Lord.
In Scripture, there's this concept of listening. One is said to have listened only if he has done something about what he has heard.
As we heard, the Lord was growing our convictions, to bear one another's burdens, to seek each other's interests above our own, to hold our gifts loosely for the sake of the Kingdom of God, to endeavor in faith to relate to one another as God's Word calls us to.
We began dreaming of what it would look like for us to join together. Each time we'd grow a little less fearful of what that might mean, and unbeknownst to us, the Lord was cultivating seeds in our hearts for Kingdom relating and Kingdom living that we'd get the privilege of working out first hand with each other.
The Beginning of a Kingdom Partnership
The Kingdom Collection was our "obvious" first step of faith, according to Emily. We didn't know what it would look like, whose shop it would be in, or upon what we'd make design decisions, but we took a step of faith and found we'd have to apply the very verses and songs we'd chosen by faith, over and over again.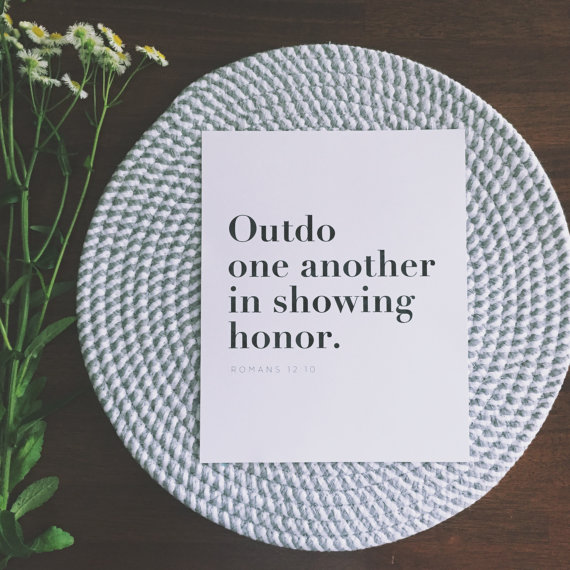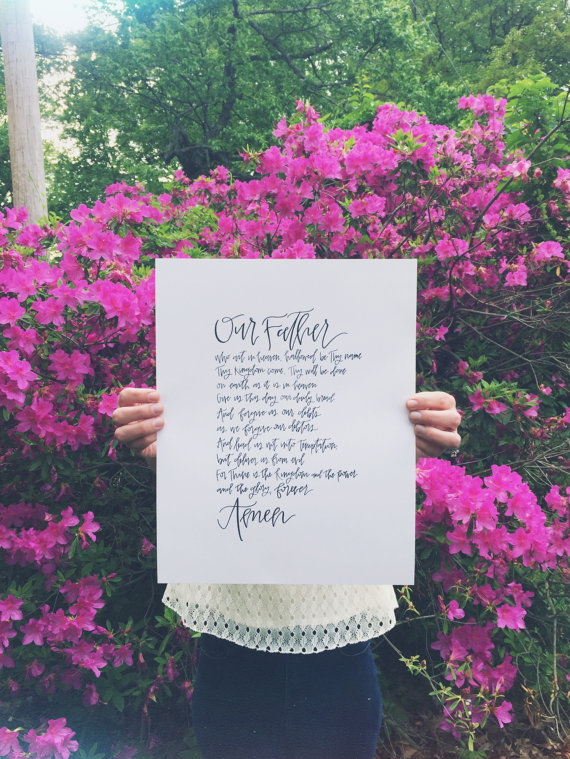 As we worked together, we aimed to seek first the Kingdom, outdo one another in showing honor, decrease ourselves that He might increase, pray for purity in heart, hunger and thirst for righteousness, and sing it is well as the Lord showed us more and more of our lot.

My husband suggested I ask Emily to join Words Worth Noting first. To him it made perfect sense. He is logical and has wisdom from the business side of things that I do not.
So I prayed and asked Emily if she would join WWN.
Her answer was a jumbling of excitement and fear and processing the consequences of what that would mean.
Emily: I was floored when Lauren asked me. Like she said earlier, we had brought up the idea of our officially working together several times throughout the course of our friendship. However, there always seemed to be obstacles in the way. Our financial need. Our different artistic styles. My love for Justified Paperie. Our physical distance—oh, did we mention that we now live in 2 different states? When she asked me the desire to say "yes!" was so strong but it was mixed with so much tension.
I knew I was asking a lot. But I was not asking for my sake. I was asking as the fruit of the Lord's work in my heart over the last two years of friendship. I was asking because the Lord opened my eyes to see the opportunities we might have to become more like Him in seeking first His Kingdom. I was asking so that this ministry of mercy that is WWN might be best stewarded and refined for Kingdom use.
Over the next week, Emily prayed and sought the Lord and His wisdom. When she shared her heart with me and all that the Lord had affirmed that week, I sensed in her a peace that bore witness to the King.
Emily: The second I hung up the phone with Lauren, I laid my head down on my desk and started to pray. It was terrified at the thought of leaving the security of growing Justified Paperie, the autonomy of designing whatever I wanted, and the independence of owning my own company. However, I was more excited about the vision of what Words Worth Noting could become if we were laboring together. I couldn't shake the dream of creating a place of ministering God's Word to women through writing together and collaborating my talent of graphic design with Lauren's lettering.
That week, the Lord revealed that my fears were not aligned to His Word. Followers of Christ should not be identified by worldly security, autonomy, or independence. On the contrary, humility, faith, biblical community, and wisdom are honored throughout the pages of Scripture.
As Emily spoke of her God-given desire to join WWN, it was I who grew fearful. Now the responsibility would be much greater. I could not foresee the future of WWN, and Emily was surrendering her shop and her skills and her heart into "my" hands. Oh the Lord's calling felt too much!
But something she said convicted and convinced me over the next week. She confessed her fears of letting go and taking a role as a bondservant, but she was convinced the place the Lord was calling her to would mean death of self and greater Christlikeness. And it was in that place that she knew God would get the most glory.
That soothed the fears that I had (and still have) of leading and stewarding greater responsibility. I believe the Lord had been calling me to steps of faith that include both of these – leading and greater responsibility – but until Emily spoke those words of truth and grace, I did not have the strength to step out in faith.
The place God calls us to always means our death. And in that place, our weaknesses will surely be exposed. But that is His grace, that we'd know we could do nothing apart from Him. That we'd never aim to depend on ourselves but on the power of Christ that lives within us. And as we grow in dependence, we grow in love for Jesus. And as we grow in love for Jesus, others see Him more readily in us.
This is what I wanted, more than anything, that the hope of glory, Christ in me, be evermore put on display in my heart and life.
So as I prayed and sought the Lord, as Emily prayed and sought the Lord, we both surrendered our fears. We looked to Him who promises to walk with us, lead us, and shepherd us every single day and step.
We don't know what this journey will hold, but we eagerly anticipate God's faithfulness to us in this step of faith. Today is officially the first day of our partnership at Words Worth Noting! We lift high the name of Jesus and humbly pray that in this endeavor, we'd grow in the grace and knowledge of Him who loved us to the uttermost. And in worshiping Him, we pray we'd be conformed and restored more into His image. We'd be honored if you joined us.
TODAY ONLY: For $10 off any purchase of $35 or more, use coupon code: BETTERTOGETHER10
Shop here: www.wordsworthnoting.etsy.com
Lauren Weir